Cruise and Chews
Sat23sep10:00amSat4:00pmCruise and ChewsHold onto your taste buds and buckle up for the most delicious ride of the year!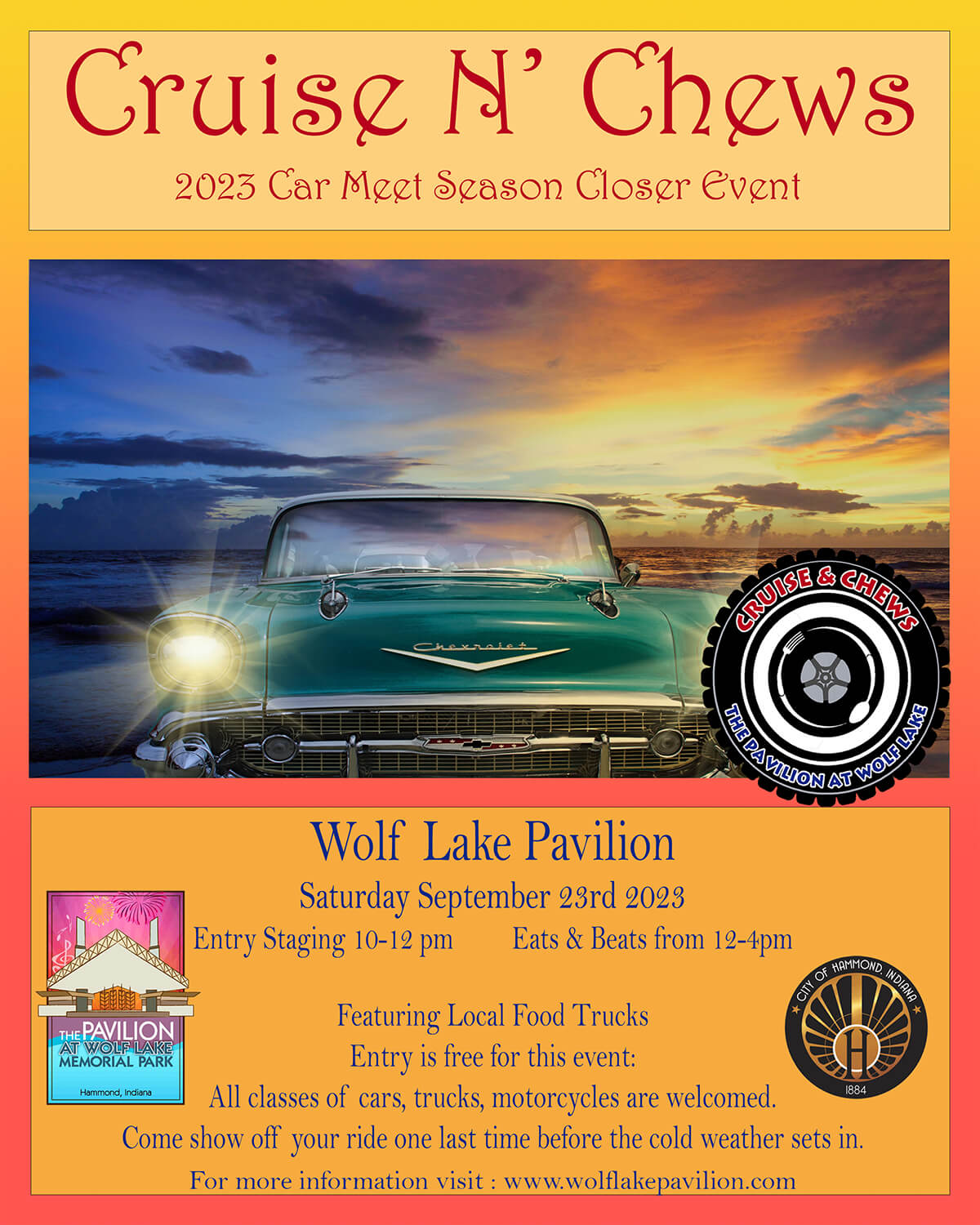 Event Details

Mayor Thomas M. McDermott, Jr. and the Hammond Port Authority are turning up the excitement dial with the latest addition to The Pav's event lineup: Cruise and Chews!

Clear your calendars and rev up your engines for the ultimate combo experience – it's cruise night during the day and a food fair like no other! Join us at The Pav on Saturday, September 23 from 12-4pm, as we merge horsepower and flavors for an unmissable extravaganza.

Show Off in Style: Attention car aficionados and four-wheel fanatics! Park your prized rides in the spotlight between 10am-12pm and let them bask in the admiration of fellow motorheads. No need to rev up your registration engines, because participation is free and easy-breezy. Drop those worries about trophies and tallying points – we're all about good times and great bites. There's no judging or prize hunting here, just the joy of showcasing your wheels and indulging in the tastiest treats.

But hey, let's not leave out the non-revving, non-vrooming crowd! Even if you're not an auto aficionado, you're still welcome to join the party. Sink your teeth into scrumptious offerings from local food wizards that will turn your taste buds into dancing machines. From juicy burgers to sweet delights, we've got flavors that'll fuel your happiness.

Remember, there's no price tag on fun and flavor! Cruise and Chews is a free-for-all event, so gather your squad, your family, and your hungry selves for a day packed with laughter, camaraderie, and the ultimate culinary journey.

So, gear up for a mouthwatering adventure and make your way to The Pav on September 23rd. Feel the thrill of the engines and the satisfaction of every delicious bite. Whether you're a car enthusiast, a foodie fanatic, or just looking to soak in the good vibes, Cruise and Chews is the place to be!
Time

(Saturday) 10:00am - 4:00pm